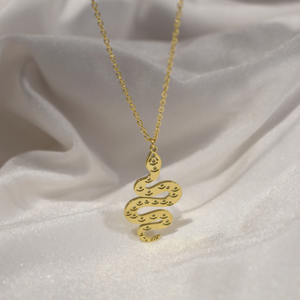 Showcase your daring style with our Kris Snake Necklace! Made with a sleek and slithery chain, this chic necklace will add a hint of wildness to your wardrobe.
Gold Plated

Stainless Steel

30mm Pendant

15.5" Chain with 2.5" Extender
Jewelry Care: 
It is important to gently clean your jewelry with a soft cloth after each use. We recommend removing your jewelry when bathing or before applying oils, lotions, and perfumes for optimal longevity.