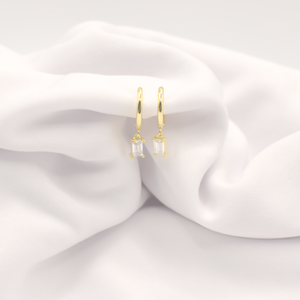 These dainty huggies offer a sleek look and a perfect way to accessorize any outfit for any occasion. Wherever the day or night takes you, let Clara Huggies take you there with irresistible sparkle and style.
18K Gold Plated

Sterling Silver
10mm Diameter
CZ Stone Drop
Hinge Clasp
Sold As A Pair
Huggies Instructions: All of our huggies are made with sterling silver — a delicate and flexible metal. We suggest gently guiding the back of the huggies to the earring post until the earrings "click" close. Pushing too hard can lead to the earring post bending. This can cause the huggies to no longer "click" close. This can be adjusted by gently moving the earring post up or down until the huggies "click" close securely.
Jewelry Care: 
It is important to gently clean your jewelry with a soft cloth after each use. We recommend removing your jewelry when bathing or before applying oils, lotions, and perfumes for optimal longevity.