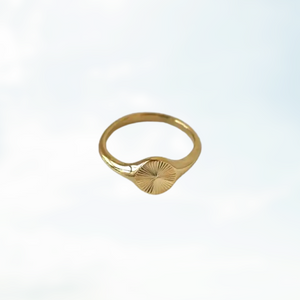 Let your look truly radiate with this Radial Signet Ring! Timelessly stylish and vibrating with energy, this golden signet ring is the perfect accessory for any ensemble.
18K Gold Plated
Stainless Steel
Available in Sizes 6-8 
Jewelry Care: 

It is important to gently clean your jewelry with a soft cloth after each use. We recommend removing your jewelry when bathing, washing hands, or before applying oils, lotions, and perfumes for optimal longevity.